Nukka the German Shepherd How a grain-free food helped - an EPI success story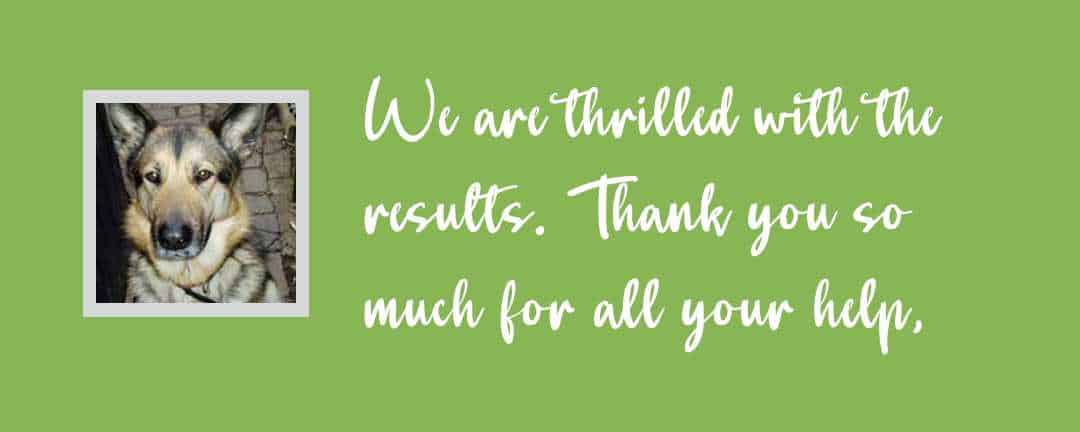 Our German Shepherd x Alaskan Malamute, Nukka began having runny stools at about 6 months old. We were advised to stop feeding her the Royal Canin diet she was on and give her a simple diet change over a two week period of some sensitivity tinned food that was given to us by our vet. We also had to increase her feeding times from 2 to 4 times a day. She was also given medication to stop vomiting and diarrhoea. Unfortunately this didn't improve much. She stopped vomiting but her stools were pretty much the same. I then tried giving her only freshly cooked chicken and rice, which was a real struggle with such a hectic schedule. I kept saying to myself that it would be worth it if it would improve her bowel issues, but it didn't.
She was eventually weaned back on to the Royal canin diet along with chicken and rice for two out of the four meals.
We changed vets after moving house and they put her on a course of antibiotics to clear up any infections that she may have, as well as being on a royal canin, chicken and rice diet. At the time I was pregnant and couldn't work so we were quite short on cash and it was costing a fortune. They were putting her on antibiotics for months at a time and there was no improvement. I saw Nukka getting worse and worse, more diarrhoea and vomiting, losing more weight and losing more hair. Her stools were a mustard colour, almost bright yellow, and they looked like huge cow pats. She wasn't herself either, she would get tired when out on walks, she didn't have any energy and she slept most of the day and night. She was having stools up to 10 times a day, which was crazy. Eventually we could only really walk her once every few days.
We were advised by the vets to put her on a cheaper premium brand dry food known as Chappie. This made no difference. She still had yellow cow pats.
After a total of 12 months of her being poorly, I put my foot down and insisted that they did some tests on her. I had asked before, but they kept insisting that this was just all too common with German Shepherds and that sensitive stomachs came with the breed. The antibiotics were making her drowsy and she wasn't herself. Eventually they did some blood tests and diagnosed her with EPI just before Nov 2010. I was upset that she was going to have to live with this horrible disease, but I was so relieved that there was still hope.
We were told to give Nukka Lypex enzymes every time we fed her (3 times a day) to help her to digest her food. After a week I saw little improvement in her stools, and she didn't look like she'd put on any weight at all. I broke down in tears thinking that the Lypex hadn't worked and faced the thought that we might have to have her put down. I couldn't bear the thought of losing her, but thought it was cruel to make her live in such a way. At this point she was still eating Chappie.
The vets told me to change her diet on to the James Wellbeing diet. Being pregnant and unable to work, I was broke. I just couldn't afford this food that had been recommended. I was even dubious about it working.
A charity known as Friends of the Animals helped said they could help me out. I couldn't afford to buy all these different brands that were being reccommended. I was very short on cash, so if they didn't work, or even made her worse, I'd be stuck.They gave us some tins of sensitive Science Plan food, and a large bag of Oscars Vegetarian dry food to try, but again, these didn't help.
My mom and I spent a good few weeks searching for some different hypoallergenic foods and were hoping to find some information on foods that could support a diet for a dog with EPI.
My mom eventually came across the Nutrix Duck and Potato grain free hypoallergenic pet food. It looked great, as Nukka isn't allowed to have alot of fat, carbohydrates, oils or food colourings etc. We read all the information and testimonials and decided to try Nukka on a bag of this food.
It arrived in no time at all. We switched Nukka on to the Duck and Potato diet cold turkey, without weaning her on to it. To my amazement she loved the food, and gobbled it down. She was having a large quantity 3 times a day with Lypex, to help her put weight on. Within 2 days she began having brown firm stools. I was so relieved. Nukka loved her food again, and she had so much energy. It was lovely to see Nukka back to her same old self. We took Nukka to get weighed at the vets. To my amazement she had put on weight. I told the vet about the Nutrix food. They said that they had never heard of it, but could I bring in some information for them.
I am due to go back in a month to get Nukka weighed again. and I will definitely take the information in for them. If only they had the information about this food, they could of advised me about this sooner, It would have made a huge difference to Nukka's life and we wouldn't have had to deal with all the upset it caused. I tell every dog owner I meet about how much of a life saver this food was to us.
We are thrilled with the results.
Thank you so much for all your help,
Briella, Matthew, Lily and Nukka
Purchase duck and potato recipe