Molly the Cocker spaniel. - grain-free diet gives new lease of life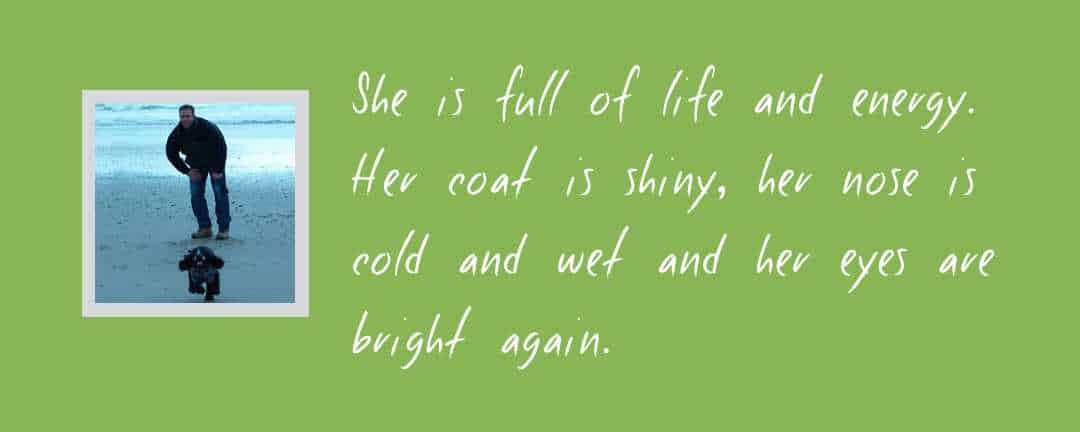 Our dog Molly was diagnosed with Pancreatitis in September last year and was very poorly on a drip at the vets for over a week. She came home but was still recovering for some time. She was put on a strict diet of chicken, rice and vegetables which she enjoyed, but no matter how much we fed her, she was always frantically hungry and lost so much weight, she looked like she was wasting away - we were really starting to worry. We were talking about Molly to a lady called Jackie from our local supermarket and it turns out, her dogs had also had pancreatitis and she told us about Nutrix.
Her dogs had been doing well on the food so we ordered a sample which Molly then tried and loved. We ordered a full bag and she has been on this food ever since. She has re-gained some of her weight and has settled at a healthy weight level. She is full of life and energy. Her coat is shiny, her nose is cold and wet and her eyes are bright again. I took her back to the vets for her annual booster and the vet was so pleased to see her looking so well. She has a new lease of life and although she has a healthy appetite, she is now content after a meal and is not frantically begging for food all the time. We are very grateful to Nutrix for helping us to manage her condition and bring her back to good health again. We really cant thank you enough!
Thank you
Kind Regards
Katrina & Gavin Beck
Purchase duck and potato recipe