Daisy the black labrador Doing great on Nutrix duck and potato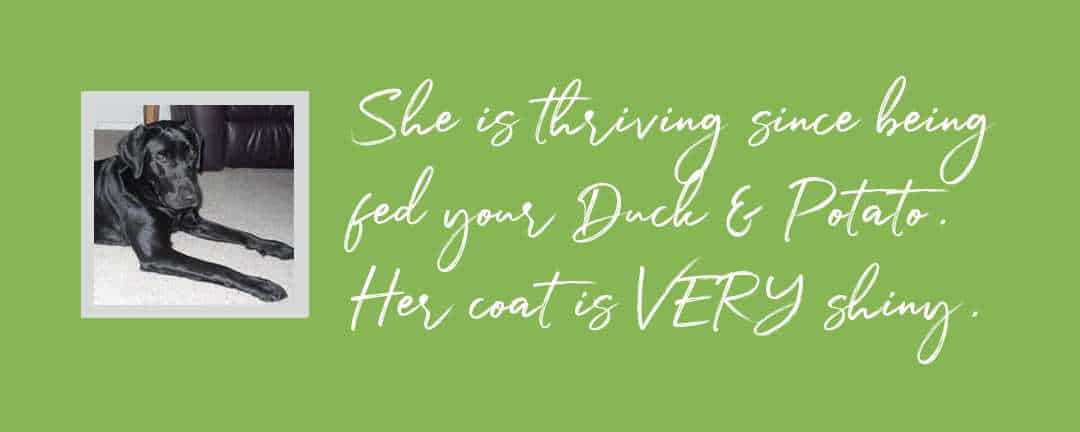 UPDATE: We thought you might like an update on Daisy the Black Labrador. She is thriving since being fed your Duck & Potato. Her coat is VERY shiny, and always receives compliments. In fact our friends tell their friends about her. She is full of energy and fun. All thanks to your product.
Our 8 month old labrador Daisy, had never had 'good' stools. They were more like yellow cowpats, sometimes bright green. She also suffered greatly with puppy wind. Eventually, things got so bad that she was passing blood and mucus as well. We took her to our vet who diagnosed colitis, prescribed anti-biotics and a change of diet to rice and fish until her stomach was settled. This we did until she was 'clear', when we started to gradually re-introduce biscuits, when the problem started again. After 3 or 4 attempts of plain diet then gradual introduction of 'normal' food, then the recurrence of the intestinal problem, we wondered if Daisy was wheat intolerant. We thought of this because she was energetic, not losing weight and still had a lovely shiny coat - so, clearly, not ill.
We got to the point of considering cooking all her food ourselves, but after researching the issue decided this course of action would not be practical. Then we found the Nutrix website with a good range of wheat, gluten and cereal free foods. Still not sure what course of action to take, we phoned your office and spoke with a very helpful lady who offered to send some samples for Daisy to try. Daisy had always been a fussy eater, but as soon as she tasted the duck and potato she was looking for more. The consequence is we ordered a 15kg bag which arrived in very quick time, and Daisy has never looked back.
Her stools are now 'normal', not so frequent and she does not suffer with wind - much to our relief!! In addition, she is now enthusiastic about her food, as any good labrador should be! It is still early days, but the signs are looking good.
Purchase duck and potato recipe