Cocker spaniel with EPI - How a grain free dog food worked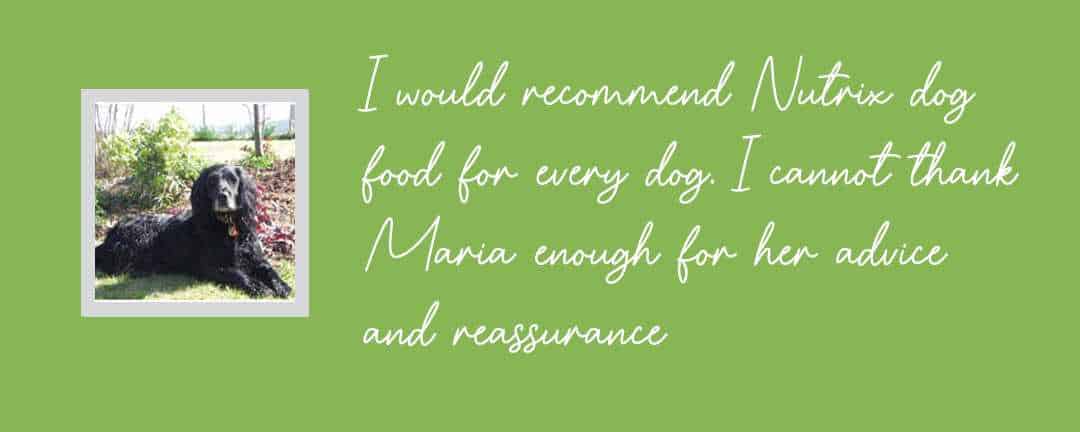 I am so grateful to Maria and to Nutrix. My 6 year old Cocker Spaniel became ill quite suddenly at the beginning of January. He had bright yellow diarrhoea and began to lose weight. He was also very hungry all the time and ate his faeces when he could.
Initially, as I was away, I took him to a vet I didn't know, who prescribed a worm tablet and a paste to help solidify his diarrhoea.This had no effect; neither did a second prescription. When I got home,my own vet then sent off blood and faeces samples. By now I was desperately worried. My little dog had lost 2kg and was obviously not digesting anything. When the vet told me it was a pancreatic insufficiency which was easily treatable I was so relieved. However, I administered the enzyme twice a day and fed him his original food as recommended by the vet, but this had no effect. I now searched the internet and found epi4dogs which recommended feeding no grain, and suggested Nutrix for those residing in the UK. I rang Maria who spoke to me for about 15 minutes. She was so reassuring, and knows so much about EPI. I ordered the Duck and Potato food but in the meantime I was feeding cooked chicken only, with the enzyme.
On the next visit to the vet I explained that the site (and Maria) emphasised the necessity to add the enzyme to every meal and that grain was often difficult to digest. As the Nutrix food had arrived, we agreed to my feeding Duck and Potato three times a day with a level teasp of Panzym on each meal, consistently for a week to see the effect.
I fed him a meal that evening and one the following morning. Miraculously his 'poo' became solid and brown that very day, and has been ever since. He gained 1 kg in just over a week.
Following this I went back to the vet and told her that 82% of EPI dogs have a B12 deficiency. She noticed that his blood test showed a low level and prescribed a course of 6 weekly injections.
Finn is no longer constantly hungry and is again full of energy, with a shiny coat.

Now, at the beginning of April, I have gradually established a meal of Duck and Potato twice a day with a scant level teasp of Panzym on each meal. I am also able to give him about 6 of these biscuits for a treat when I leave him, without the enzyme and without detrimental effects.
Purchase duck and potato recipe


I would recommend Nutrix dog food for every dog. I cannot thank Maria enough for her advice and reassurance.
Olwen Childs
April 2012