Buster's story - an EPI success story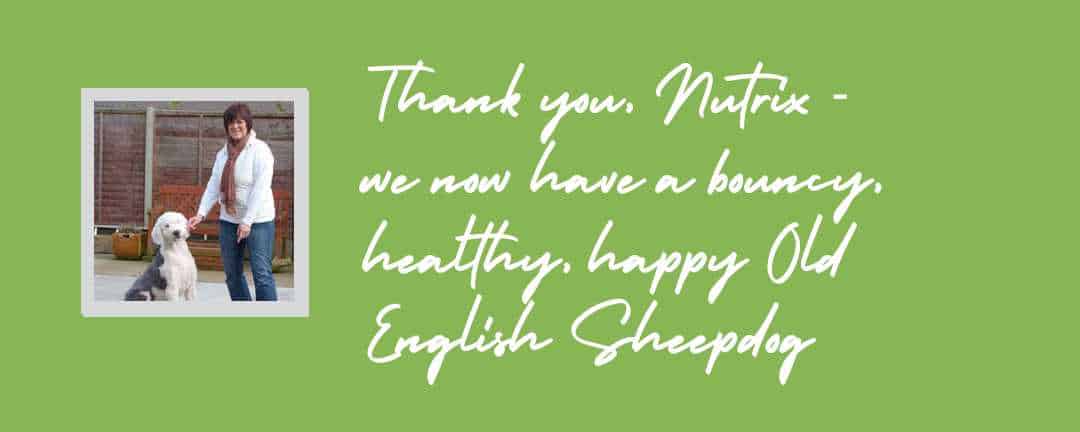 We have had Buster since October last year following the death of our 11 year old Old English Sheepdog. We were lost without our old boy and were fortunate to be able to take Buster-boy as a rescue dog. He came to us with 'behavioural issues', had been put on a special diet and he was very lean. We were also told that he didn't open his bowels very often and he was a very nervous dog on arrival. We knew the nature of these lively, loyal and very loving dogs and started to introduce him to a well know dried brand of dog food, with daily walks and ball-games!. He was becoming more like a normal, bouncy Old English, but still had loose, erratic motions.
After reading the label of that particular brand of dog food, I thought that there were far too many additives and colourings (especially as he was prone to a touch of hyperactivity) so searched the internet for good quality hypoallergenic dog food. Then I discovered Nutrix - what a find! Half the price of a leading hypoallergenic dog food - swift, efficient delivery and very courteous customer service. Glad to say, also, all systems working as they should!
Thank you, Nutrix - we now have a bouncy, healthy, happy Old English Sheepdog (quite bouncy, to say the least!) who is a beauty as you can see!
Purchase duck and potato recipe